Hugo and Catarina, from Madeira Wind Birds were present at the GIAM (Iberian Group fro Seabirds) congress that took place in Santurtzi, Biscaya, Spain on the 30th and 31st of October 2011. While Hugo was presenting Zino's Petrel pelagic expeditions he showed a photo of a feeding frenzy of Cory's shearwaters. António Sandoval, a former Wind Birds' customer from Galicia, got intrigued with one of the birds on the photo... By the end of the presentation, António approached Hugo about that photo and with the help of the subject's specialist Ricard Gutiérrez the bird was positively identified as a Scopoli's shearwater Calonectris diomedea.
This is the picture that Catarina took on the 30th of August 2010 on the way to a chumming position during a Zino's Petrel pelagic expedition: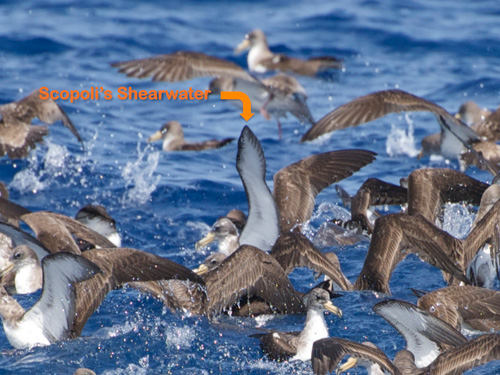 Now we have to pay more attention to Cory's shearwaters as we now know there might be a Scopoli's between them!