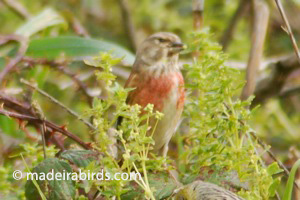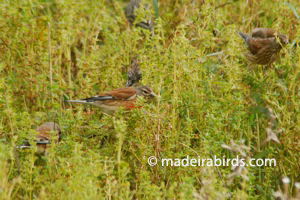 Synonym:
Linaria cannabina guentheri
Common Linnet Field ID Keys
Shape & Size
A medium-small finch with relatively long tail and conical bill.
Colour Pattern
With a grey bill and brownish body, in summer the male has a reddish chest and fore crown, thus distinguishing it from the female which has a light brown head and a darker brown streaked back and lighter still streaked underparts. In winter, the male's colours gets somewhat duller with the red being less obvious. In flight, the wings are black with whitish flash on it.
Behavior
Linnets are sociable, being seen feeding either in pairs or in flocks which can be mixed with other finch species as European Goldfinch and Atlantic Canaries. These flocks fly in tight groups, bouncing over fields and then descending to the ground with a twittering noise.
Habitat
As they feed on the ground on seeds and insects, Linnets are generally found in open areas with low vegetation, preferring grasses and bushes, in agricultural zones and also in gardens and settled areas. This bird is scarce, being very localized on the islands of Madeira and Porto Santo.
Distinction from similar species
The most likely confusion species with Linnet is Twite or Common Redpoll but none of these have been recorded to Madeira so far. Twite is a brownish finch with streaked body, darker at the back and buff on the undersides with black streaks, and when flying shows a pinkish rump.
Common Redpoll has also a streaked tawny-brown body showing with a dark red forehead and a white wingbar.
Carduelis cannabina BIOMETRICS
Wingspan: 21 - 25 cm (Hume, 2002)
Total length: 12.5 - 14 cm (Svensson et al, 2009)
Weight: 15 - 20 g (Hume, 2002)
Other Bird Facts
Seasonality in Madeira: All year
Breeding: Nests are built in bushes of low to medium height with 4 to 6 eggs being laid on up to 3 clutches between April and July. It is believed that on Porto Santo the nesting season starts earlier, in February.
Diet: Feeds on seed both in the ground and low height plants.
Status
Madeira local status by Correia-Fagundes et al, 2021: Rare breeding bird
Madeira local status by Romano et al, 2010: Rare breeding bird
Madeira local status by Zino et al, 1995: Rare breeding bird
Conservation status by the IUCN Red List Categories, 2013: Least Concern ver 3.1
Name of this species in other languages
Portuguese: Pintarroxo
German: Bluthänfling
Dutch: Kneu
Swedish: Hämpling
Danish: Tornirisk
Finish: Hemppo
Norwegian: Tornirisk
Spanish: Pardillo Común
French: Linotte mélodieuse
Italian: Fanello
Polish: Makolągwa
Slovak: Stehlík konôpka
Czech: Konopka obecná